First Days – Wordless Wednesday!
Today I am linking up with Trish from My Little Drummer Boys for another Wordless Wednesday Photo Post.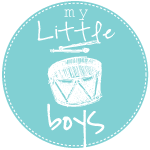 I am sharing our first days photos for this year with you.
First day of Term 1 at school.
Veruca's first ever day of school.
Levi's first day at 3yr old Kindergarten.
Do you make a habit of recording your children's first days?
We try to as much as possible. I find it's great to look back and to see just how much they have all grown and come along every 12 months.